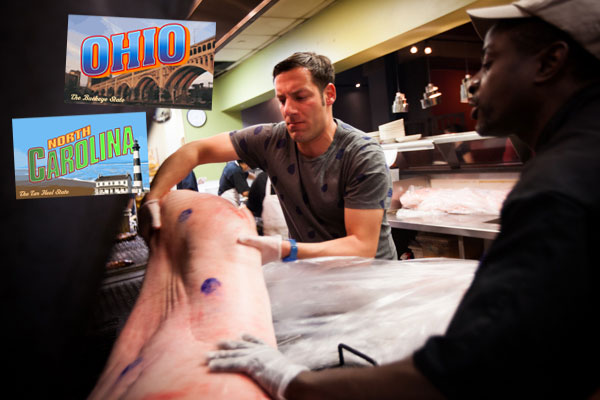 Food is one of those areas where the differences between British and American culture feel genuinely super-sized.
First, it's difficult to find a good curry anywhere in this country. (With the notable exception of Boston).
Second - across the southern states in particular - "barbecue" means a whole lot more than your dad blackening Tesco burgers in the back garden.
In states like Tennessee, Kansas, South Carolina, Missouri, and today's destination - North Carolina - meat grilling is revered to near-fanatical levels. Each state claims to be the 'spiritual home' of barbecue and has its own (subtly different) meat preparation methods.
Tonight we're eating at one of the best barbecue restaurants in North Carolina - 'The Pit' in the state capital, Raleigh.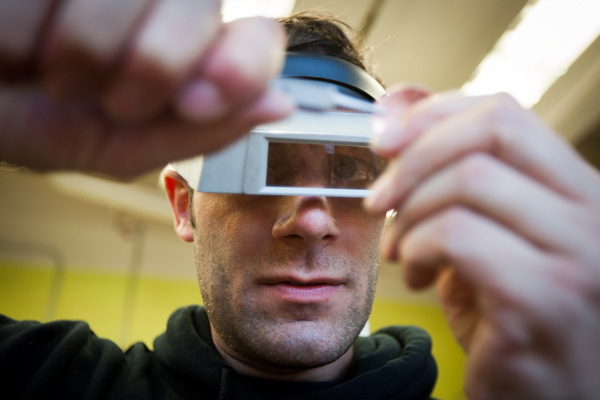 Beforehand, we spend the afternoon working up an appetite at the town's progressive Pullen Arts Centre.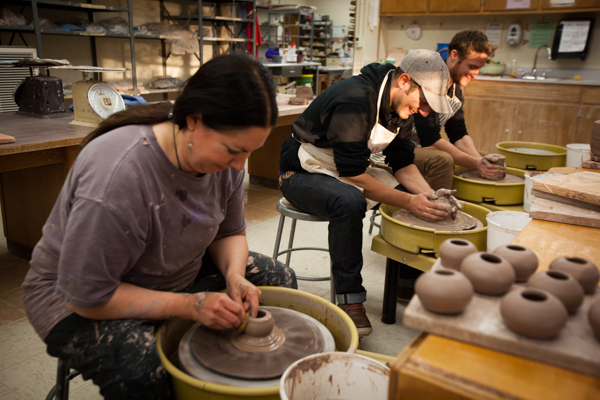 Under the watchful guidance of assistant director Betty McKim, we spend a fantastic few hours getting our hands dirty in various pottery, jewellery making and metal working scenarios. For us, it's a great way of making unique gifts to take home (well, 'unique' is one word for the trumpet-shaped cereal bowl I make for my grandmother, anyway).
We woke up this morning in Toledo, Ohio, but had a criminally short time to spend in the Buckeye State: a genuine shame considering the amount it has to offer, not least the famous 'Three C's': Cleveland, Columbus and Cincinatti.
But weather and flight times combined to restrict us to 'just' a hearty breakfast at Toledo's lovely Glendale Garden Cafe.
Travelling from Ohio to North Carolina at this time of year is like travelling from January to April. There's no snow on the ground in Raleigh, and the sun is gentle and warming.
In other words - perfect barbecue conditions.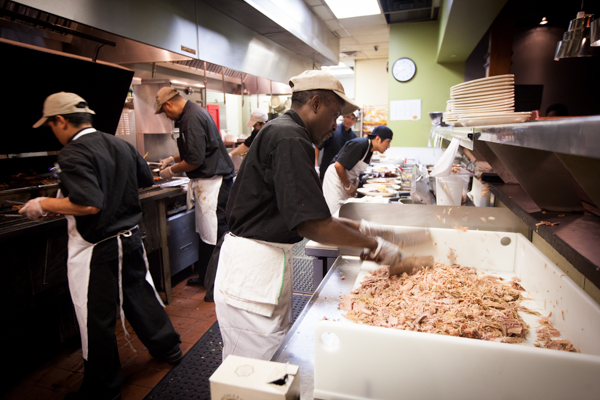 At The Pit, we're invited into the bustling kitchen to help 'pit master' John Odom barbecue a whole hog. The process is remarkably simple, but with even the most basic of (vinegar-based) seasoning, the meat tastes absolutely out of this world. Particularly when washed down with lashings of traditional sweet tea.
One of the most frequent questions we're asked as we travel around is: "where did you have the best food?" It's day 22 of 30 and without a shadow of a doubt, this is the best meal we've had in the United States.
The pork is so delicious that we all eat until we can barely move.
The 'spiritual home of barbecue' is a loaded, vastly controversial topic out here in the Deep South, and one we probably shouldn't wade into...
...but it is - clearly - North Carolina. By a prairie mile.
App Of The Day
As the team moves around the US at breakneck speed, they're relying on a number of mobile apps to keep them in control and on schedule. Each day, one of them will recommend an app that's proved particularly useful or interesting, for travellers to download themselves from
itunes
.
The App:
GRILL-IT
Mark says:
"While in the UK a BBQ often means charcoal flavoured sausage, in America there are several states that claim to hold the BBQ crown. With 'Grill-it', you get a wealth of regularly updated recipes, including plenty of vegetarian-friendly options. So you can plan your al fresco feast and your hungry guests will call on you again - rather than calling the fire brigade."
Create your own adventure in North Carolina: